Expert Solar Roofing Options for Residents of Greater Washington D.C. and DC, MD, and VA
Cut your energy costs and increase the value of your home with our solar systems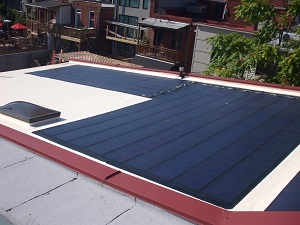 Power your home with the energy from the sun! Have Maggio Roofing install a solar system for your roof today.
Maggio Roofing is one of the only roofing companies to offer solar options to residents of the DC/MD/VA metro area. We are the Washington DC metro area's leader in solar-integrated roofing.
Installing a solar system by Maggio Roofing will reduce your energy costs and will increase the value of your home. The sun is an unlimited resource that is free. When you install a solar system you are making an investment in a sustainable energy for yourself and our community.
We install solar systems for roofs in Washington DC, Arlington, Alexandria and nearby areas of DC, MD, and VA. Feel free to set up a free consultation today by contacting us!
Solar panels installed without damage to your roof
While many "solar" companies have recently come into the market, many don't understand the effect that the solar arrays have on your roof. From weight load issues on flat roofs in Washington DC to damage to sloped roofing materials in Maryland and Virginia, you can rest assured that we can not only install a money-saving solar array, but we can do it without damaging your roof!
Rather than settling for a solar company that doesn't know anything about the roof on which the system rests, make sure your solar system is done right – by the areas leading certified solar integrated roofing specialist.
Why install a solar integrated roof?
Benefits of a solar roofing system:
Superior energy efficiency
Cuts energy costs
Long-lasting power generation
Stress-free, cost-efficient installation
The American Recovery and Reinvestment Act of 2009 (ARRA) made installing certain roofs, insulation, and renewable energy systems very affordable. When you install certain types of roofing systems or insulation products, you are eligible for a federal tax credit of 30% of the expenditures, including labor costs and products.
Installations of solar electric systems are eligible for a 30% federal tax credit of the total cost. The total cost to the consumer on which this credit is based includes site preparation, assembly, original installation, piping and wiring that might connect the device to the home, and the labor and markup. There is no cap on this credit amount.
When thinking about installing a solar system, you should realize that the system is designed to last 25 years or more. The problem is that most flat roofs do not last that long, or your roof may have already used up most of its useful life. If you have a flat roof, the ideal solution to this problem is to install a DuPont Elvaloy® (Ketone Ethylene Ester – KEE) based roofing system by Fibertite Roof Systems. We provide a lifetime warranty (for residential properties), which will outlast the life of any solar system.
We have also have patented BIPV assembly that allows us to use crystalline panels. Since this assembly is the "rack" for the solar system, the entire assembly qualifies for the 30% federal investment tax credit. This is a great way to get a FREE Roof!
Products
Sharp's research and development in the solar industry has lead to groundbreaking solar solutions. Since 1959, Sharp has been providing high quality and efficient solar solutions to customers everywhere.
Sharp Solar has an Eco-Positive mission to brighten and bring efficiency to the lives of people around the world through their innovative solar solutions. With Sharp Solar, your home gets several great benefits:
Reduce utility bills
Improved energy efficiency
Reduce environmental impact
25 year warranty
Headquartered in Valley Forge, PA, CertainTeed is a leading North American manufacturer of building materials and specializes in the production of high quality roofing and other materials including vinyl siding, trim, fence, railing, decking, insulation, gypsum, and ceiling products.
Apollo II
The Apollo II Solar Roofing System uses monocrystalline silicon solar cells that captures and converts more solar energy per square foot than any other CertainTeed solution.
Apollo II offers you savings, efficiency, and provides your home with a beautiful, ecologically-sound future.
Located in Scottsdale, Arizona, Kyocera is leading the industry in the supply, production and installation of solar energy panels.
KYOCERA Solar Panels
Consistently setting the bar in the solar industry, KYOCERA has increased the light-sensitive surface area of their solar cells, lowered resistance, and reduced energy loss, making their products extremely efficient. To protect the cells from the most severe environmental conditions, they are encapsulated between a tempered glass cover and an EVA pottant with a PVF back sheet. The entire laminate is installed in an anodized aluminum frame for structural strength and ease of installation.
As the largest solar panel manufacturer in the United States, SolarWorld is leading the industry of solar technology with an outstanding environmental track record.
SolarWorld is committed to quality, creating solar technologies designed to produce clean energy for at least 25 years. Our solar panels will help your home in a number of ways:
Reduce your utility bills
Improve your home's resale value
Gain energy independence
Decrease your carbon footprint
Contact us for a free estimate from professional solar installers
Special consideration needs to be taken with flat roofs in Greater Washington D.C., which is why Maggio Roofing is your local solar contractor for District of Columbia, Maryland, and Virginia. For more information on our solar systems or any other roofing services, call us today.
We offer free estimates in Potomac, Mc Lean, Bethesda, Annandale, Lanham and all surrounding areas.
Looking for a price? Get a no cost, no obligation free estimate.