Slate Roofing Installed in Washington DC, Arlington & Throughout Greater Washington D.C.
Enhance the performance and style of your District of Columbia, Maryland, and Virginia roof with roofing slate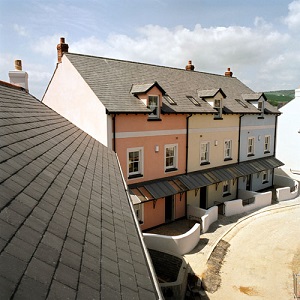 Slate is durable, long-lasting and can withstand damage from rain, snow and wind.
There are many types of roofing slate and they each have their own particular qualities. At Maggio Roofing, we take great pride in knowing the different types of roofing slate - their origins, longevity, and qualities. We can even help you identify the slate on a roof in question. Our familiarity with slate roofs has made us your number one choice for slate roof installation in Greater Washington D.C..
Presently, in the US, roofing slate is still being quarried in Virginia, Pennsylvania, New York, and Vermont. However, a century ago there were hundreds more American slate quarries than there are today, including in Maine and Georgia. The differences between the slates from the various quarries were sometimes striking, so a knowledge of the history of slate quarries is valuable for people who work with traditional slate roofs.
We offer slate roofing in Washington DC, Arlington, Alexandria and nearby areas. Contact our roofers today for a free estimate!
Different types of slates offer different life expectancy benefits
Life expectancy can vary greatly depending on the exact source of the slate. For example, some sea green slates are starting to get soft after 110 years, others are still very hard after 120 years, depending on the quarry of origin. You can judge the quality of your slate very simply by looking at the exposed surface. Is it flaking and crumbly looking or is it smooth and maybe even shiny? Smooth is good, and smooth surfaced slate roofs should be preserved. Flaky ones can be preserved too, although flaking is usually a sign of deterioration.
It should also be noted that environmental conditions such as pollution will change the appearance of slates over time. NY red slate roofs in Pittsburgh are black after a century of soot. You can see the original color of the slate by breaking a piece and looking at the inside.
Slates that exist in the Greater Washington D.C. area today:
Vermont Slates
Sea green slate (shown above), is the color of the sea when first quarried but changes to light gray with buffs and tans after it weathers. It's known as a "weathering" or "fading" gray-green slate today. This is a hard slate from Vermont with a life expectancy of about 150 years on average. This is a very common slate in Washington DC and the Northeast, which are highly restorable.
Vermont purple slate remains dark purple throughout its life. Some are variegated or speckled with green. This is an excellent slate with a life expectancy of 150+ years and are also highly restorable.
Unfading green slate from Vermont is an excellent slate, light green, often shows no wear after 120 years. This slate could last 200 years or more.
---
Pennsylvania Slates
Penn Big Bed Slate Co. has been producing distinctive "blue/gray" slate from their historic Pennsylvania slate quarry since 1934. Pennsylvania slate runs to the blue/grey tones; tones known as sky-color blends. Pennsylvania tends to be a "soft" slate with a life expectancy of 75-125 years. Some of these slates last longer than other versions of Pennsylvania slate, but if the surfaces of the slates are smooth, then the roof is probably still repairable.
Bangor slate from Bangor, PA, is one of the more common of the PA black slates. It is a smooth surfaced finely grained slate that lasts about 90 years. The worst of the PA black slates is ribbon slate, which contains a band of soft carbon material that causes the slates to fall apart in time. Ribbon slate roofs, once they start to fall apart, are hopeless. Many of the softer black PA slate roofs are now reaching the end of the line and must be replaced - they cannot be restored.
Chapman slate, from the Lehigh Northampton district, lasts about 100 years, maybe more. It is easily identified by the diagonally striated patterns.
---
Buckingham-Virginia Slate
Produced in Buckingham County, near Arvonia, Virginia this famous roofing slate is quarried from natural stone of exceptional enduring qualities and proved its permanent nature by continuous use on roofs for over 150 years without signs of fading or decay. Buckingham-Virginia Slate is assurance to architects that their buildings will receive lifetime protection, and that the beauty which they build into the structure will be preserved.
Being rich Blue-Black (sometimes called Oxford-Grey) in color, Buckingham-Virginia Slate has the strength of color necessary for architectural contrast and the dignity desired in fine buildings. The color is unfading and can be matched at any future time.
Buckingham-Virginia Slate is one of the hardest slates in the world. The slate's resistance to wear along, with its' distinct identity and beauty of the natural cleft face, have made this unfading slate highly popular. When durability and low maintenance cost are considered, Buckingham Slate is a very practical choice.
---
Del Carmen "Blue Back" Slate
Del Carmen is specially and exclusively quarried from the Del Carmen quarry in North West Spain to offer customers a top of the range slate usually sought by demanding markets such as Germany or France. Del Carmen Blue-Black roofing slate has a distinctive riven texture; the deep blue-black color is totally natural and will not fade, even in the strongest sunlight.
Del Carmen is a high-density slate that does not crack, when fixed properly. It is almost totally inert and shows no reaction in polluted atmospheres. It is also non-porous and will not support the growth of mosses or lichens. It is also unaffected by insect attack. Whereas most slates sourced from Spanish quarries have a transverse grain, Del Carmen slates are notable for the rare characteristics of a longitudinal grain. Del Carmen Ultra is supplied with a written guarantee of 75 years.
Get a free slate roofing estimate with one of our professionals today!
We proudly offer multiple types of roofing options for homeowners and business owners throughout Potomac, Mc Lean, Bethesda, Annandale, Lanham and nearby. Call us today for a free estimate in your area for a detailed consultation.
Looking for a price? Get a no cost, no obligation free estimate.