Metal Roofing Installation Contractor in Greater Washington D.C.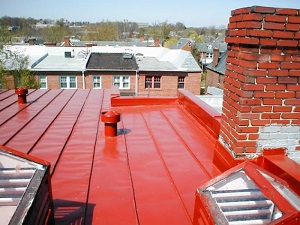 We offer competitive pricing on the installation of metal roofs in Greater Washington D.C..
Metal roofing provides a durable roof with little to no maintenance needed
Metal roofing has a long history and a great future as a roofing option on residential and commercial buildings. Ridges formed in the panels create overlapping seams during roof installation. Factory-applied finishes provide corrosion resistance and can be applied in multiple color choices.
Maggio Roofing installs metal roofing, including aluminum and coated steel roofing that will outlast any other roofing system. Our high quality metal products and efficiency of labor will leave you with a roof that you can be proud of and one you can count on!
If you would like to learn more about installing a metal roof on a new building or replacing your current roof with a metal roofing system, contact Maggio Roofing today! We provide free estimates for all of our roofing services in Washington DC, Arlington, Alexandria and many areas nearby.
We are your local experts for metal roofs in DC, MD, and VA
If you need metal roof repairs or want a metal roof installed on your home or commercial building, make sure to go with a roofing contractor with experience in this type of roofing. Maggio Roofing is a reputable contractor that will provide you with a free estimate for roofing work, as well as references based on past metal roofing installations.
We also have an in-house metal shop that allows us to produce our own sheet metal, thus reducing the cost of installation by eliminating the cost of the manufacturer. It also allows us to customize your roofing project in order to fit your specific needs.
Lasting performance & low maintenance
Nothing performs like a metal roof. We offer the widest range of metal roofing solutions in the industry with all the profiles, finishes, textures, architectural details and structural options you want.
Whether it's a standing seam metal roof or metal roofing shingles, Maggio Roofing backs its metal roofing products with:
35-year paint warranties
Lifetime weather tightness warranties
Over 20 standard colors available
Custom metal roofing colors available
Specification & engineering guidance
State-of-the-art quality control and compliance
Call us today for a free quote on metal roof installation
Maggio Roofing specializes in metal roofing, as well as other types of roofing systems. We have the equipment and expertise to handle all of your roofing needs, including roof repair, roof replacement, and new roof installation in Arlington, Washington DC, Alexandria, Annandale, Potomac, Lanham, Bethesda, Mc Lean and nearby.
Contact us today to schedule an estimate for metal roofing. Give us a call at 1-844-619-2733 or contact us online to meet with one of our experts as soon as possible!
Looking for a price? Get a no cost, no obligation free estimate.